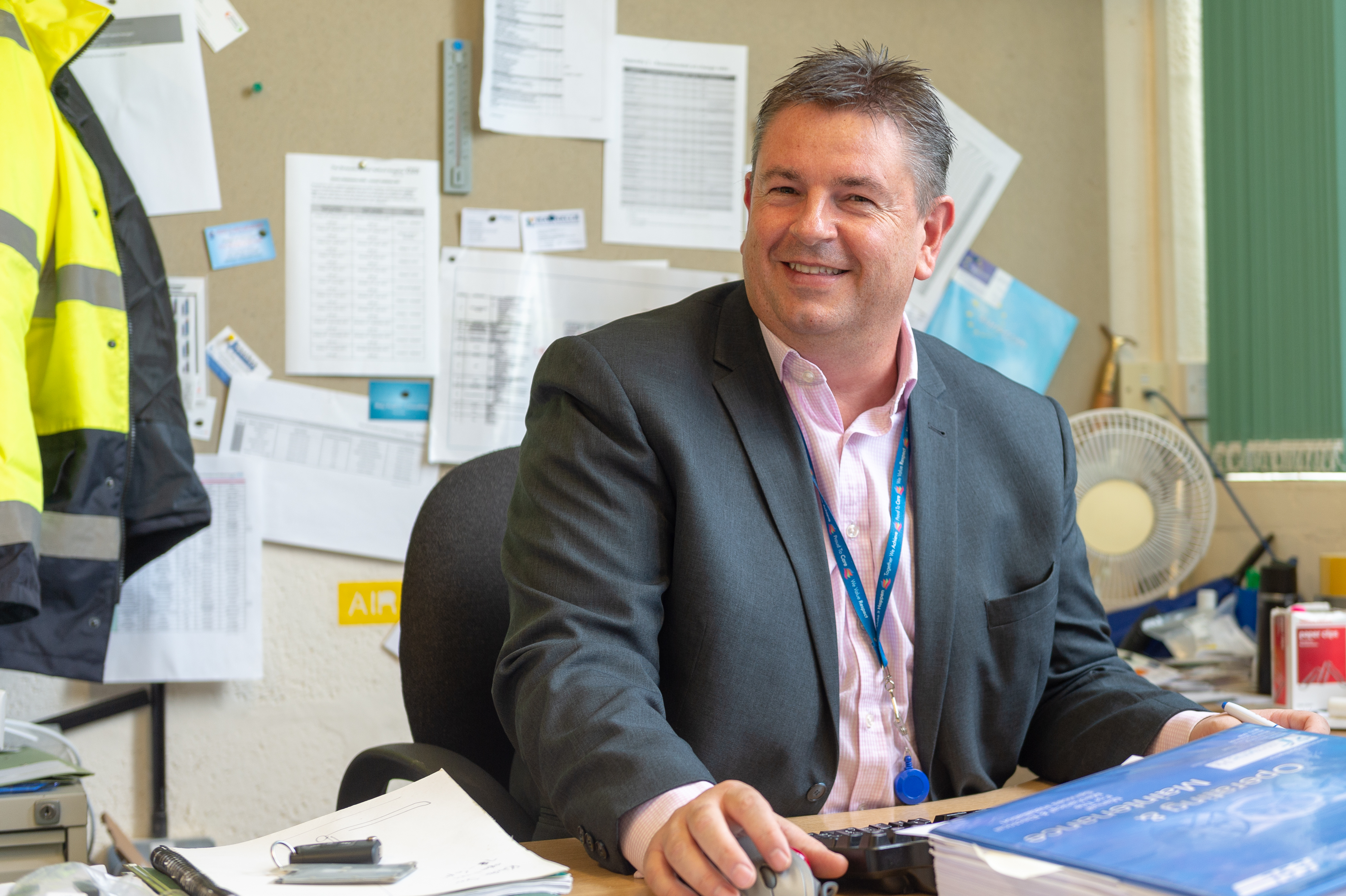 Steve Lewis is a Mechanical/Electrical Project Manager at the Trust and started his career as a Mechanical Apprentice in 1984. Within a few years Steve was learning and maintaining Mechanical and Electrical Hospital Systems and had experience of working at Shrewsbury, Telford and Oswestry Hospitals.
Outside of the NHS, Steve's role would come under the title of Engineer, and the training he has undertaken would be the same as for these roles such as a City and Guilds qualifications. However hospitals are so versatile that multi skilled Engineers are required and will often cross many specialities.
By 1988 Steve was a fully qualified Mechanical Craftsman on his way to a role in management having been fully trained by the Trust. The work then involved operational maintenance and providing actuate costing's for day to day work, projects and new works within hospitals.
In 2000 moved into management by becoming a Team Leader looking after 27 people and becoming the Trusts responsible person for Heating, ventilation, and air conditioning (HVAC), Water and Medical gasses and progressed through the Band's until he settled in his current position.
"My typical working day would involve discussion and development of projects with relevant stake-holders, ensuring we deliver and meet the expectations and requirements of the department or service. My role also includes liaising with the Estates Managers, providing back ground local site knowledge (when required) by assisting them to plan and maintain the smooth running of the day to day operational activity.
"My favourite part of Projects is the satisfaction I get when achieving and delivering all the objectives intended following Multi-disciplinary discussion. Meeting these objectives allows the Project Team to maintain and enhance the experience of our Patients, their Carers and, of course, staff affected by the changes.
"All staff members of the Estates team work tirelessly to ensure the successful and effective smooth running of building services within the Trust, and is evident on a daily basis.
I am constantly seeking new innovative ways to improve the Engineering infrastructure of SATH and get a real buzz from researching, trialling and then implementing new systems and ideas. One idea I would like to implement would be to run open days in which we can show trust staff and members of the public what we do in the background services. This would allow others to gain an insight and appreciation for what it takes to maintain and operate systems and buildings to ensure that our hospitals on both sites continue to run successfully.
"My biggest achievement to date was to be a fundamental member of a Projects Team in the replacement and installation of a Magnetic Resonance Imaging (MRI) scanner in the RSH Treatment centre. Following successful completion of stage 1 of the project, a second and subsequent MRI scanner was installed. During this time the project team, in correlation with the MRI staff, ensured continued service provision for our patients so scanning or waiting list times was not impacted upon. My main role within this project was to provide Mechanical and Electrical technical information of existing services then manage the new installations in respect of power, water, air con and new medical gasses provision. Patient's reliant on medical gasses during a procedure can now be scanned in MRI, allowing Doctors to gain timely and accurate diagnosis in their clinical condition. Moving on from this project, I look forward to the next challenge.
"Following a busy day at work and during the weekend, I enjoy hill walking, Kayaking and socialising with family and friends. I frequently like to take a city break to admire historic buildings and architecture, and to learn the history of the places I visit."
Everyone who joins the NHS is guaranteed a salary that matches their ability and responsibilities, and given every opportunity to increase it through training and development.
On top of your basic salary, you will receive at least 27 days' holiday each year, plus a range of other benefits including occupational health and counseling services.
Other benefits of working in the NHS include automatic membership of the NHS Pension Scheme (unless you choose to opt out) and study leave for sponsored courses.
To find out more about joining the Estates Team at our Trust Click here.