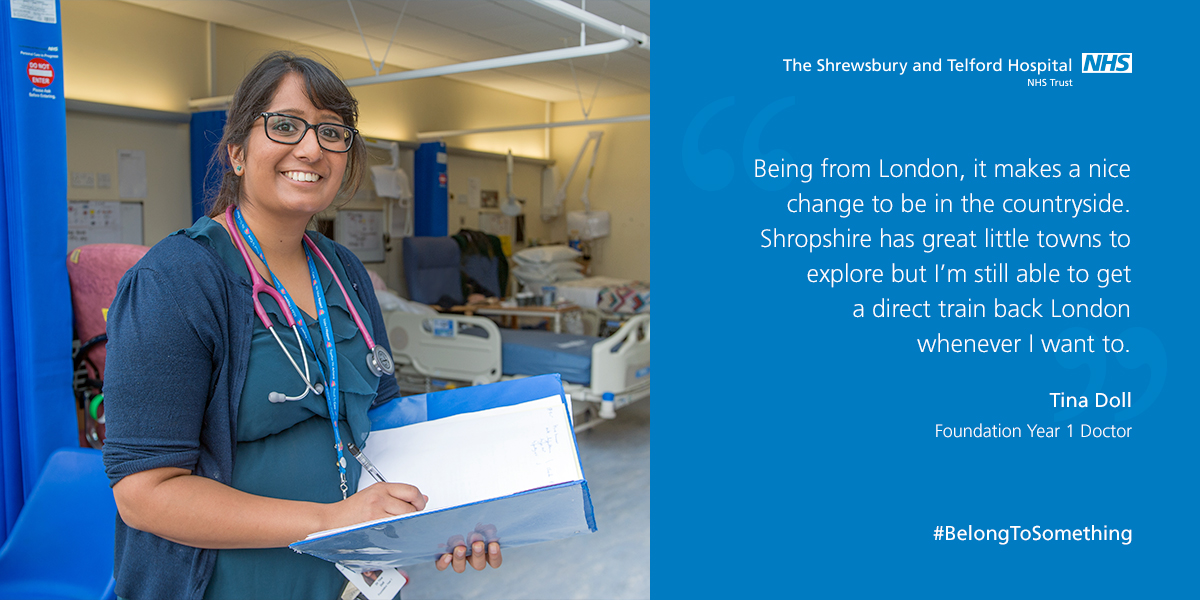 Tina Doll is a Trust FY 1 Doctor (Foundation Year 1) in Training in our Stroke Rehabilitation Unit at The Princess Royal Hospital (PRH) in Telford having completed her studies at Nottingham.
"Being from London, it makes a nice change to be in the countryside. Shropshire has great little towns to explore but it has great transport links so I'm still able to get a direct train back London to see my family whenever I want to. The PRH is a good hospital to work in, everyone is so helpful and nice. I've been here just over a month, the staff are very approachable and friendly here."
The Shrewsbury and Telford Hospital NHS Trust (SaTH) works with the West Midlands Deanery and have medical undergraduates from Keele, Birmingham and Leicester Universities. As a trust we encompass all major specialities across our two main hospitals in Shrewsbury and Telford and we will encourage Trust FY1 Doctors to develop their clinical skills through simulation training, shadowing and inductions programmes.
During their year with us trainee doctors will work across a variety of clinical departments providing the opportunity to trial a selection of speciality choices for their medical career.
"Living in working for the NHS in Shropshire is amazing and I would recommend that people try it."
We update our doctor vacancies page daily and occasionally we advertise FY1 Doctor vacancies, aswell as other training positions. To keep an eye out on the latest vacancies here and please sign up to our newsletter.