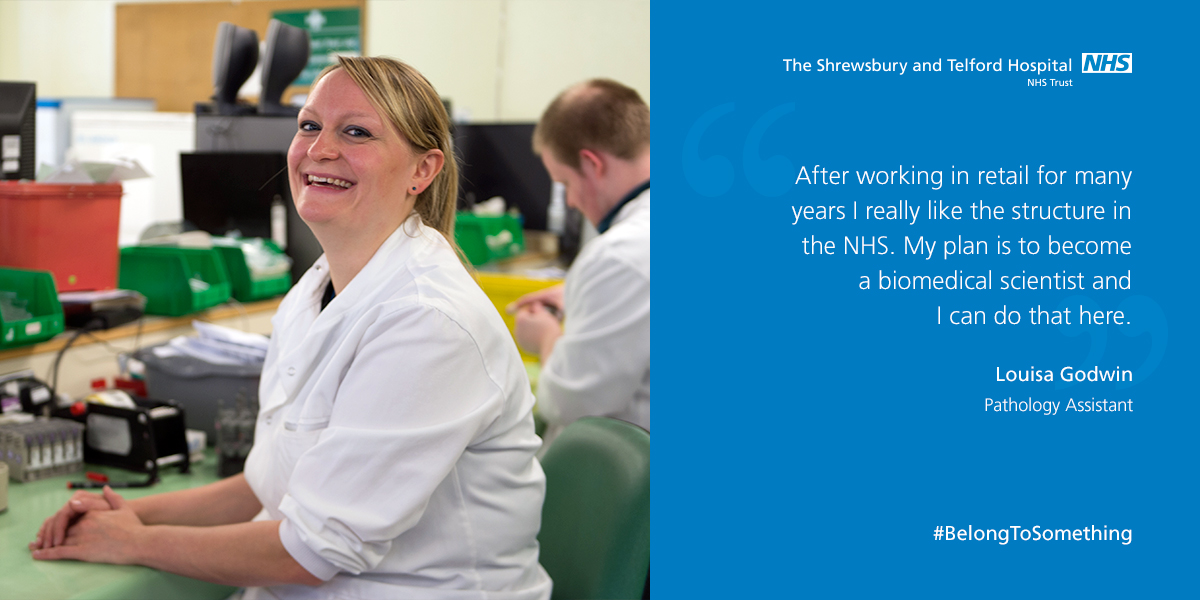 NHS Biomedical Scientist Jobs at SaTH
Louisa is currently a Medical Laboratory Assistant, but with the help of funding from the NHS. She recently moved out of her job in retail to pursue a career in the NHS. Louise is about to start a foundation degree in Healthcare Sciences to become an NHS Biomedical Scientist.
"Working in my role means there is always new and interesting things going on. There is a definite set structure working in the laboratory compared to other roles which I really enjoy.
"I am about to start my training to be a NHS biomedical scientist which is being supported and funded by The Shrewsbury and Telford Hospital NHS Trust. The NHS is full of opportunities and incredibly supportive when you want to progress. I feel really grateful to have found a career path"
---
Are you looking for NHS Biomedical Scientist Jobs? Click here.
---
NHS Biomedical scientist jobs are a much sought after career in the NHS due to the vast diversity of the role "One day you can be screening for cancer, or looking for signs of HIV. The biomedical scientists carry out investigations on body fluids and tissues to diagnose and monitor the treatment of patients.
There are 3 routes to becoming a Biomedical Scientist in the UK:
NHS Practitioner Training Programme (PTP)
Accredited degree in biomedical science
A-levels/equivalent
To look accredited BSc healthcare science degrees look at the Health Careers Course Finder Here.
---
We advertise a range of NHS Biomedical Scientist Jobs, to ask us about them click here.
---
NHS Biomedical Scientists Jobs are in huge demand. Biomedical science also supports all areas of the hospital especially the Emergency departments. Biomedical scientists are always learning and progressing in their careers and, as such, are at the cutting edge of science and medicine. The must continuously learn to use new techniques and equipment.
"Working in my role means there is always new and interesting things going on."