They may never be seen by a patient – yet hundreds of 'unsung heroes' at Shropshire's two acute hospitals ensure that they receive the best possible, often life-saving, care.
As part of National Healthcare Science Week we have been celebrating the outstanding work of our healthcare scientists.
Healthcare Science Week - which runs until March 15 - raises awareness of the diverse careers in healthcare science with the aim of inspiring the scientific workforce of the future.
There are more than 300 healthcare science staff working across a range of specialisms at SaTH including audiology, medical physics, medical engineering, pathology and fertility.
Their work includes developing cancer treatments, helping to create families, diagnosing what is making a patient ill, repairing vital medical equipment such as kidney dialysis machines; and matching blood against the clock to provide a life-saving transfusion.
Jason Kasraie is Consultant Clinical Embryologist and Andrologist at SaTH – and also the Trust's Lead Scientist. He said: "Healthcare Science Week is a great opportunity for us to celebrate the amazing work of the healthcare science workforce at SaTH.
"People working in healthcare science don't often get the chance to talk about the work they do and the difference they make to people's lives, so it is a great to be able to showcase the vital role they play in patient care, diagnosis and treatment.
"There are many different kinds of scientists working in the NHS, and they are not just wearing white coats and working in a laboratory. They are working in audiology and are out in the community checking people's hearing; they might be in embryology and helping people to have the family they have always wanted or they might be a medical physicist helping to develop cancer treatments.
"Healthcare scientists can start as school leavers who begin at associate and practitioner level to graduates who can come in as bio medical scientists, or post graduates who can come in on a training scheme which can ultimately lead to them becoming a consultant clinical scientist. There are a huge variety of careers and paths to follow."
Dave Roberts, Senior Specialist Medical Engineer in Renal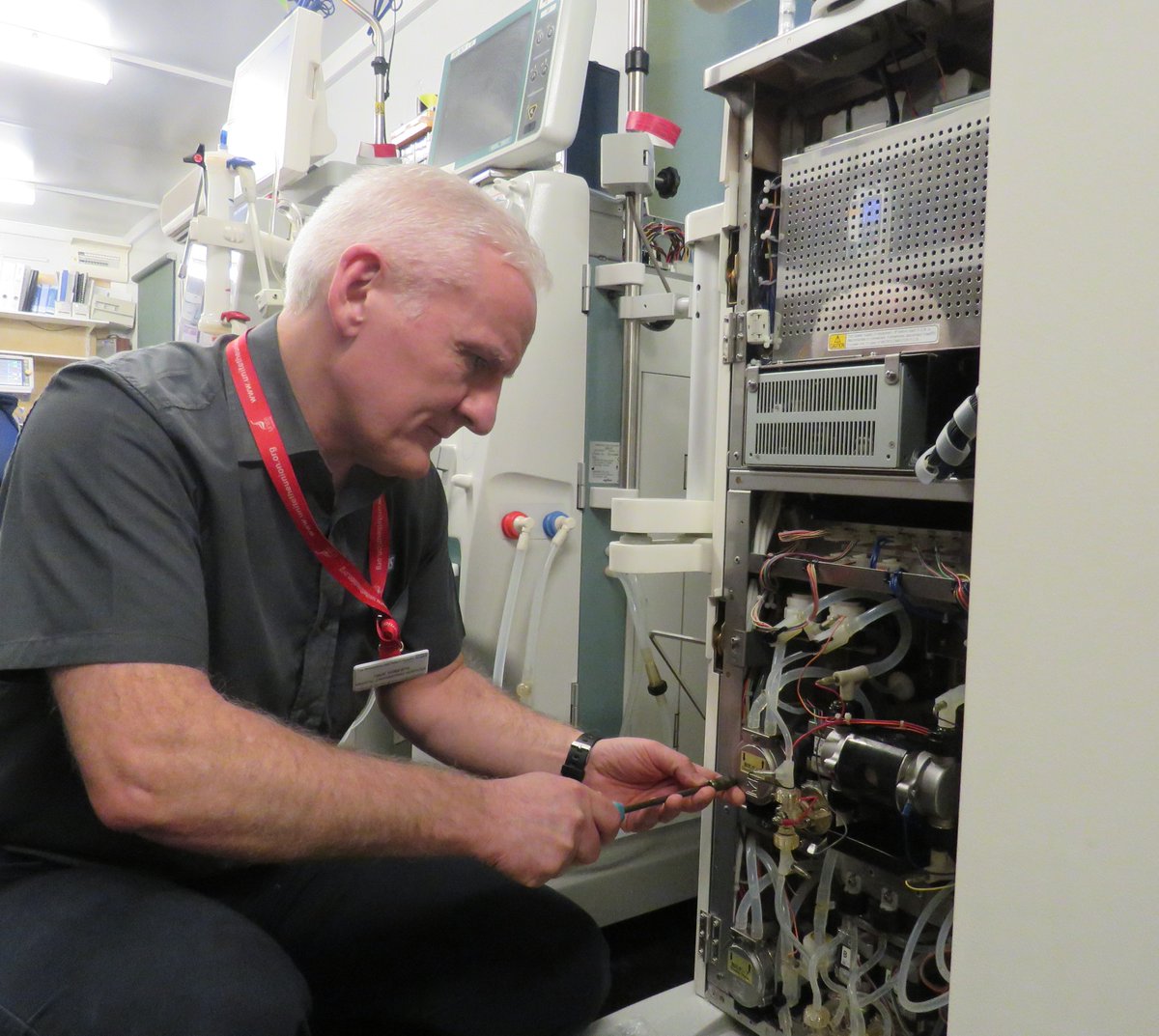 Dave Roberts is a Senior Specialist Medical Engineer and has worked for SaTH for 33 years after starting as an NHS apprentice. He specialises in repairing ITU and renal equipment.
"We quality and safety check the medical equipment in the hospitals which ranges from £30 devices to £50,000 devices. That includes anything from blood pressure monitors to ITU ventilators and renal dialysis machines.
"It is all about patient safety. We need to know that the equipment we are releasing to the patient is going to keep them well. We have to check them as things do go wrong, these are machines after all.
"We have an important part to play in the care of the patient – that is the beauty of our job – it is semi medical engineering and semi clinical. We are making an impact on a patient's treatment.
"We do interact with the patients, and I consider them my patients too. We do make a bond with them. We will also go to visit patients' homes, if they have dialysis machines at home, to make sure the machine meets their needs and to service it regularly.
"I love what I do – it is a fulfilling career as I know that what I am doing is making a difference and that a patient is being treated safely."
Alex Turner, Biomedical Scientist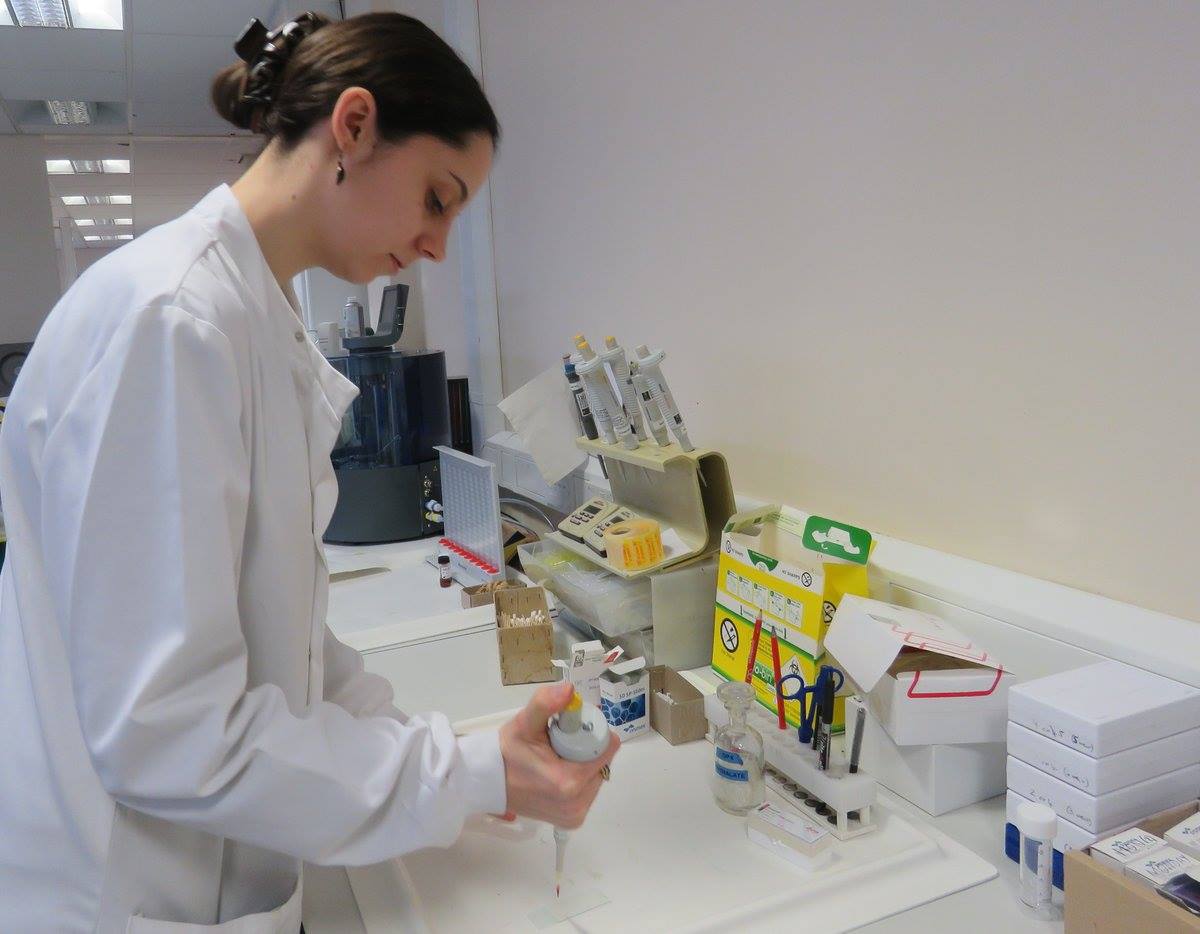 Alex Turner is a Biomedical Scientist in Haemotology – a 24/7 area of Pathology. They test patients' blood counts to determine their haemoglobin and white cell counts as well as the ability of a patient's blood to clot.
"We also respond in emergencies when a blood transfusion is required. Transfusions involve testing the blood group of a patient and determining if the patient has any antibodies in their blood that could cause a reaction if they were to have a blood transfusion. Another important aspect of blood transfusion is issuing blood and products to patients that may be anaemic or bleeding as quickly as possible. A lot of it is working out how much time we have.
"In this role, we do not have to see patients but we do have a direct impact on their healthcare helping them to be treated in the most effective way. We never meet them yet we know so much about them!
"It is a great job, and it is fantastic knowing that you are using science in a useful way, for the benefit of patients."
Stacy Parry Clinical Embryologist
Stacy Parry has been a Clinical Embryologist at SaTH within The Shropshire and Mid Wales Fertility Centre since 2008. After training as a Bio Medical Scientist in Histology she changed her career pathway and undertook the Clinical Scientist training scheme.
"I was looking for something with a bit more patient contact, so I came to have a look around the fertility unit and I loved it – then a traineeship came up and I was very lucky to get in.
"Being a clinical embryologist means that every day is quite varied, which is great, and there is always patient contact. My work includes preparing sperm samples, as well as grading and assessing the quality of the embryos before selecting the ones that we feel would give the patient the best chance of success.
"The best part of the job is always meeting the patients face-to-face and knowing that you are able to help. When treatment is successful and they come back in with their babies – it really is lovely. It is an extremely rewarding job; it is hard work but it is worth it to be able to help people achieve their dream of a family."
Euan Jackson, Biomedical Scientist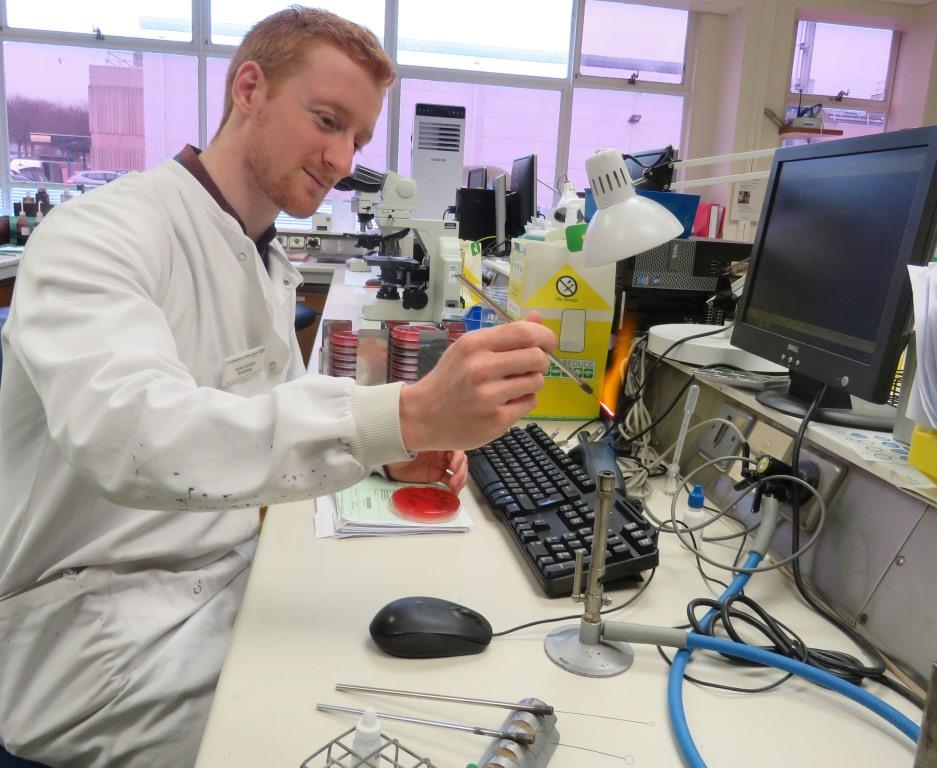 Euan Jackson, is a newly-qualified Bio Medical Scientist working in Pathology on his specialist portfolio in Microbiology. He joined the Trust in August last year following a placement during his degree course at Birmingham's University of Aston.
"Around 80% of diagnoses are made in Pathology so the work of a Bio Medical Scientist is an important one. It plays a vital role on the pathway of a patient on their journey through the hospital – and it can save lives.
"I guess it is like the role of a detective - samples from patients come to us in the laboratory and we will be looking for any signs of infection, such as a UTI. If there is an infection we are then looking for what is causing it and how it can be treated.
"I have always been interested in sciences, so I knew that this was a path that I wanted to follow. I would always advise anyone who is interested in a career in healthcare science should come in to the pathology laboratories and see what we do – it is not like it is portrayed on tv!"
Helene Cloete, Clinical Embryologist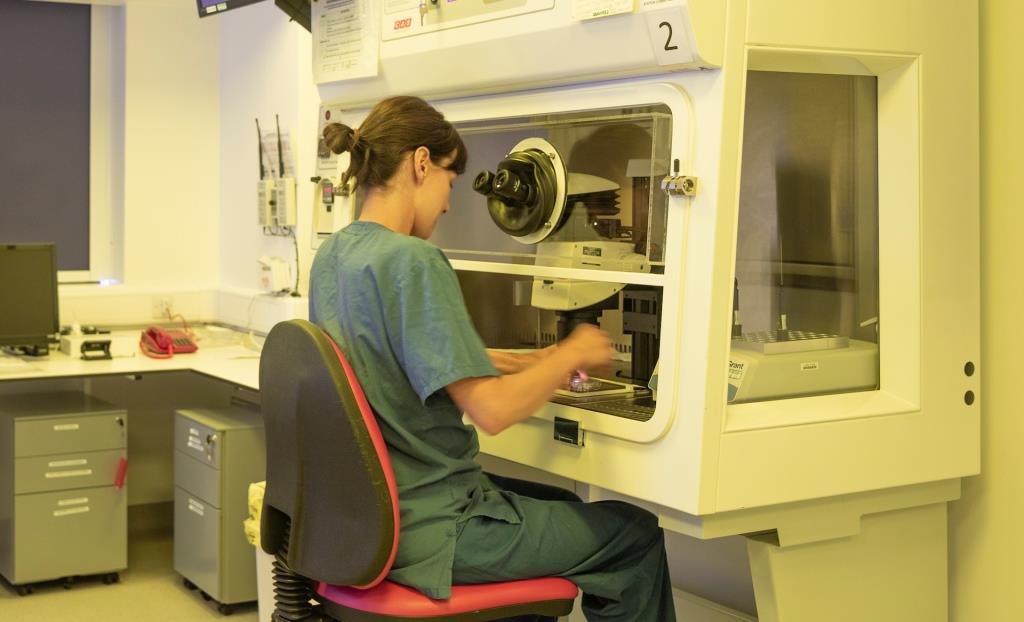 Helene Cloete is clinical embryologist who has worked for the Trust for six years within The Shropshire and Mid Wales Fertility Centre.
"What I love is the great balance between clinical work and seeing patients; and the scientific side is very exciting as well.
"I work in all areas of clinical embryology such as meeting patients, collecting eggs, preparing sperm and grading embryos, selecting them for transfer and carrying out freeze procedures – but a big part of my role is talking to patients on a daily basis and guiding them through their week of coming into the department and having their cycles.
"All of us in the team do these clinical roles and we also have specific jobs too, so I look after our key performance indicators. That means that I look closely at how the department is performing in a variety of areas and what we can do to always improve - that is really exciting for me.
"The best part of the job is the satisfaction and the very humble feeling that you get when you hear that a patient is pregnant and knowing that you played a part in that."
Fancy a career in Healthcare Science?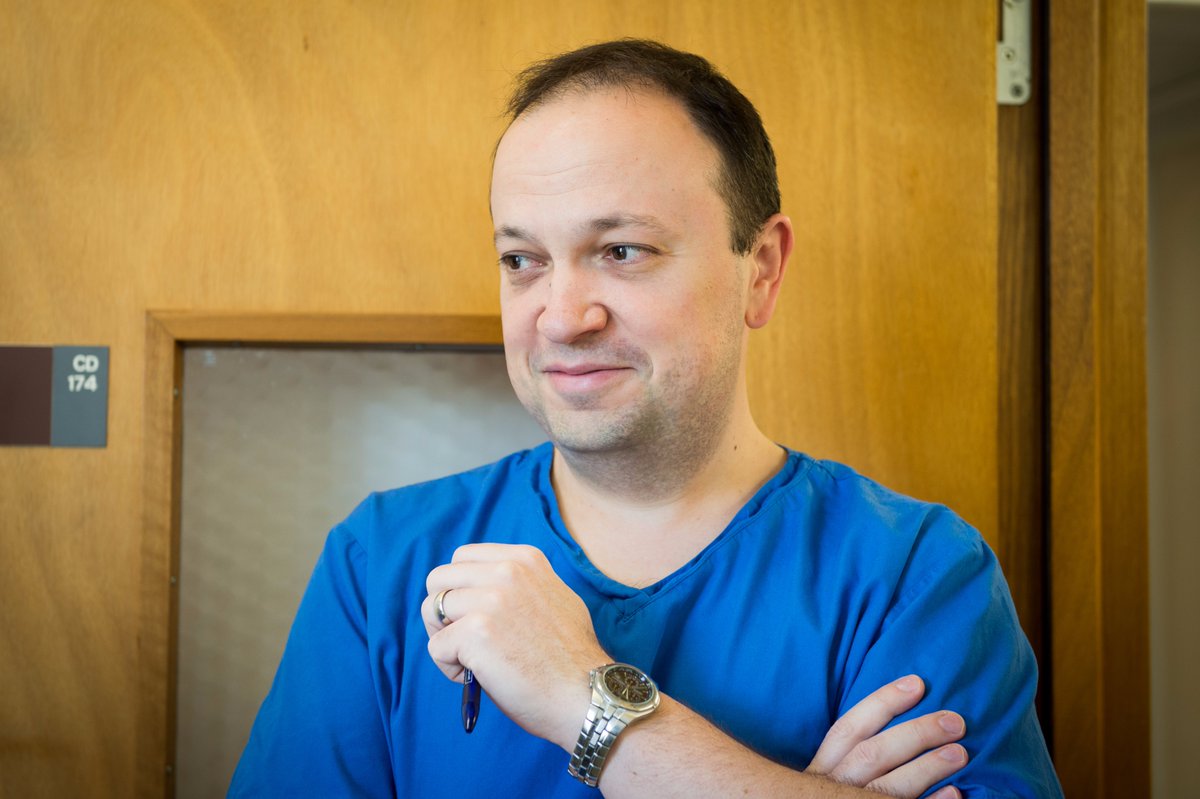 Lead Scientist Jason Kasraie:"There are many different kinds of scientists working in the NHS and they are not all wearing white coats and working in a lab. They are also in audiology or medical engineering. There are many careers."
View our current vacancies in Healthcare Science here.