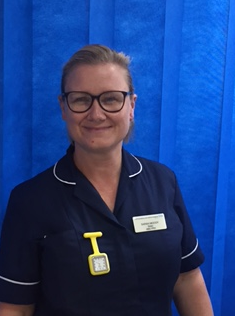 This week our Face of SaTH is Sarah Moody, who works on the Acute Medical Unit at our Princess Royal Hospital Telford.
"I started as a HCA (Healthcare Assistant) in April 1996 in the Emergency Department at PRH. Then I lost my sister, who worked as a HCA in Orthopaedics here in 1998. I was invited to apply for a secondment post to train as a RGN (Registered General Nurse) – I was the first to be seconded in the county"
"I work either on AMU (Acute Medical Unit) or AECU (Ambulatory Emergency Care Unit) as a co-ordinator liaising with the Emergency Department and GPs admitting patients and promoting flow through the department to wards"
Sarah, who says her biggest achievements are becoming a band 6 and being here for over 20 years, says her favourite part of the job is meeting and caring for patients – making them feel at ease.
Outside of work she's busy keeping active through going to the gym, swimming and walking her two dogs George (the Lurcher) and Lacey (the Collie).
Do you know someone who works with us that would make a great Face of SaTH? Send us a message so we can get in touch with them!