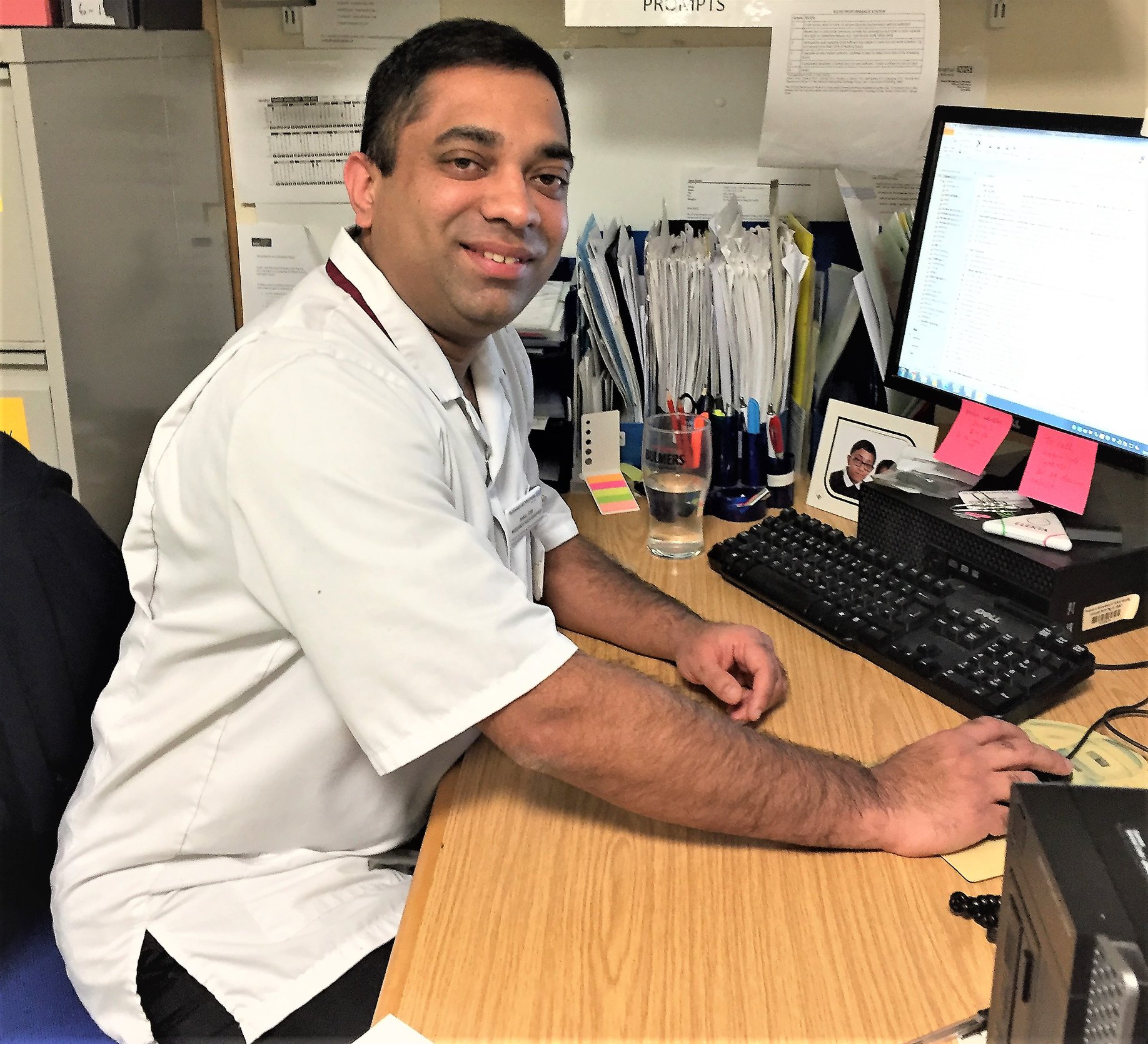 This week's Face of SaTH is Research Therapy Radiographer Sanal Jose. Sanal specialises in recruiting cancer patients to Radiotherapy Clinical Trials.
"I worked as an HCPC registered Therapy Radiographer in other trusts for at least 11 years, which involves treating cancer patients with radiation. I have now been working for SaTH for the last 7 years in Clinical Trials, Research & Innovation working mainly on Radiotherapy studies. This involves utilizing a lot of knowledge of previous experience working in Radiotherapy treatment, pre-treatment & Radiotherapy planning. I also have a strong interest in Research, which is needed in this role.
"My typical day usually involves meeting cancer patients in Lingen Davies Cancer Centre who might be taking part in various cancer clinical trials. I usually review patients on Radiotherapy studies, consent them to clinical trials if required, provide them with trial information both verbal & written information etc. I attend meetings, screen clinics to try and identify patients to various clinical trials. I liaise with study centres and deal with any data clarification queries associated with Radiotherapy trials which they may have.
"I love to see patients in clinics and speak to them and explaining about trials and answer any questions they may have. I like to point them to the right directions and get involved in their routine trials review. I have had a huge learning curve working in clinical trials for the last 7 years because you learn new things everyday, for example, reading information about a new targeted drug trial. I also like to get involved in technical part of Radiotherapy by updating myself to the newly advanced techniques and sometimes working with the Radiotherapy colleagues.
"I have recently completed my MSc degree in Genomic Medicine from the University of Sheffield, which I feel one of my greatest achievements. We are moving towards personalised medicine in the future and also the genomic medicine service has the potential of becoming an integral part of the NHS in the forthcoming era. Therefore, the knowledge around Genomics is essential, which is why I did my MSc course. I was also involved in certain clinical trials which have made SaTH a top recruiter in the UK.
"I spent most of my time out of work with my family. I have my wife and our two boys, who are 10 and 7. At weekends we'll do things such as taking the boys to sports and swimming. I enjoy working out in the gym regularly and I love cooking."
Amazing work Sanal! Visit this page if you would like to know more about jobs in Healthcare Science.