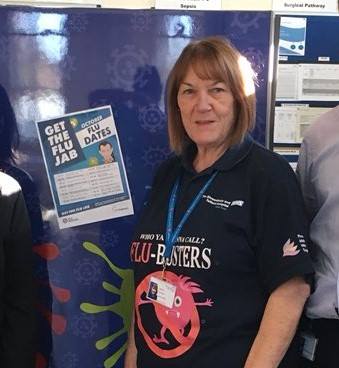 This week's Face of SaTH is Rose Williams. Rose is a Peer Flu Vaccinator, so is part of the team responsible for giving our staff flu jabs – protecting our staff and patients against the virus.

"A typical day for me involves collecting the flu vaccines from Pharmacy and the ITU. I'll then either visit areas around the hospitals or be based in the restaurant area. We may be asked to visit specialist areas such as Labs or off-site locations."

When asked what her favourite part of the role is, Rose answers "Meeting people and knowing that this role is very important to help prevent flu in the hospital.
"My biggest achievement was achieving the flu vaccines target last year, and hopefully we have again this year too"

Outside of work, Rose keeps busy through an active lifestyle – "family time is very important to me, I spend a lot of time with my children and grandchildren. I also go to the gym where I swim or do aqua-aerobics. I sew and am busy knitting at present, I love to socialize with friends too"

It's not too late to get your flu jab if you work with us! Please visit the intranet or email sath.ahealthieryou@nhs.net for more information.