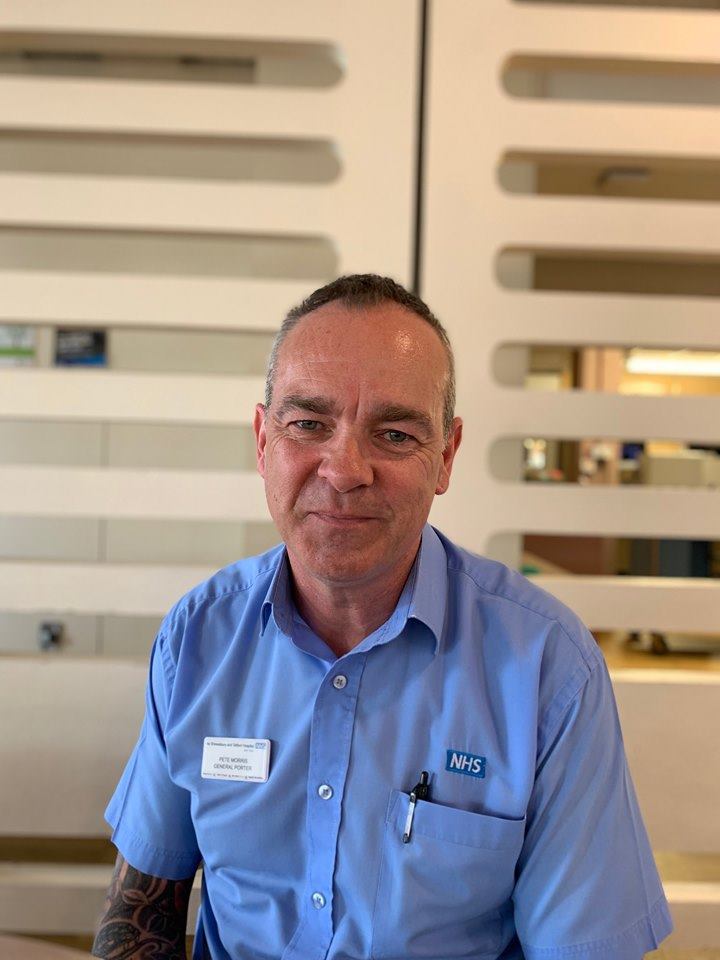 This week our Face of SaTH is Pete Morris, who works in our Portering Team..

"I joined the Trust in 2009 as a temporary Porter after I saw an advert in the newspaper. It was a case of right place, right time as I immediately loved the role and was eventually offered a full time job. I've worked across all aspects of Portering in my decade at the Trust, from collecting blood samples to moving bins to transferring patients within the hospital.

"In the past few months I have specialised in patient transfers, taking inpatients in wheelchairs and beds to and from the CT and MRI scanning departments. My role also involves communicating with ward staff and radiographers and often relaying information between them.

"I really enjoy chatting to patients during their transfers and putting them at ease. No move is ever the same and you quickly get a feeling as to whether the person you're moving wants to chat, or if they're anxious. Often patients will ask me questions, and I can calm their nerves by telling them a little bit about the people they're about to meet as well making sure that their transfer is as comfortable and efficient as possible.

"I feel privileged to work in such a busy and dynamic environment. I'm constantly meeting new people and there is great job satisfaction when I'm thanked by patients and staff for my contribution. I've also learned a lot about CT and MRI from the radiographers and about patient care from the ward staff.

"One of the most rewarding parts of my job is meeting so many different people across the hospital. From Health Care Assistants to Consultants to Clerical Staff, as a Porter you get to know staff in every aspect of patient care. It also keeps you very fit – porters walk on average 10 miles a day at RSH (Royal Shrewsbury Hospital)!

"In my spare time, I like seeing friends and family, and I'm also very happy at home watching a movie and relaxing."

Do you want to join us as Porter? Click here to see live vacancies.