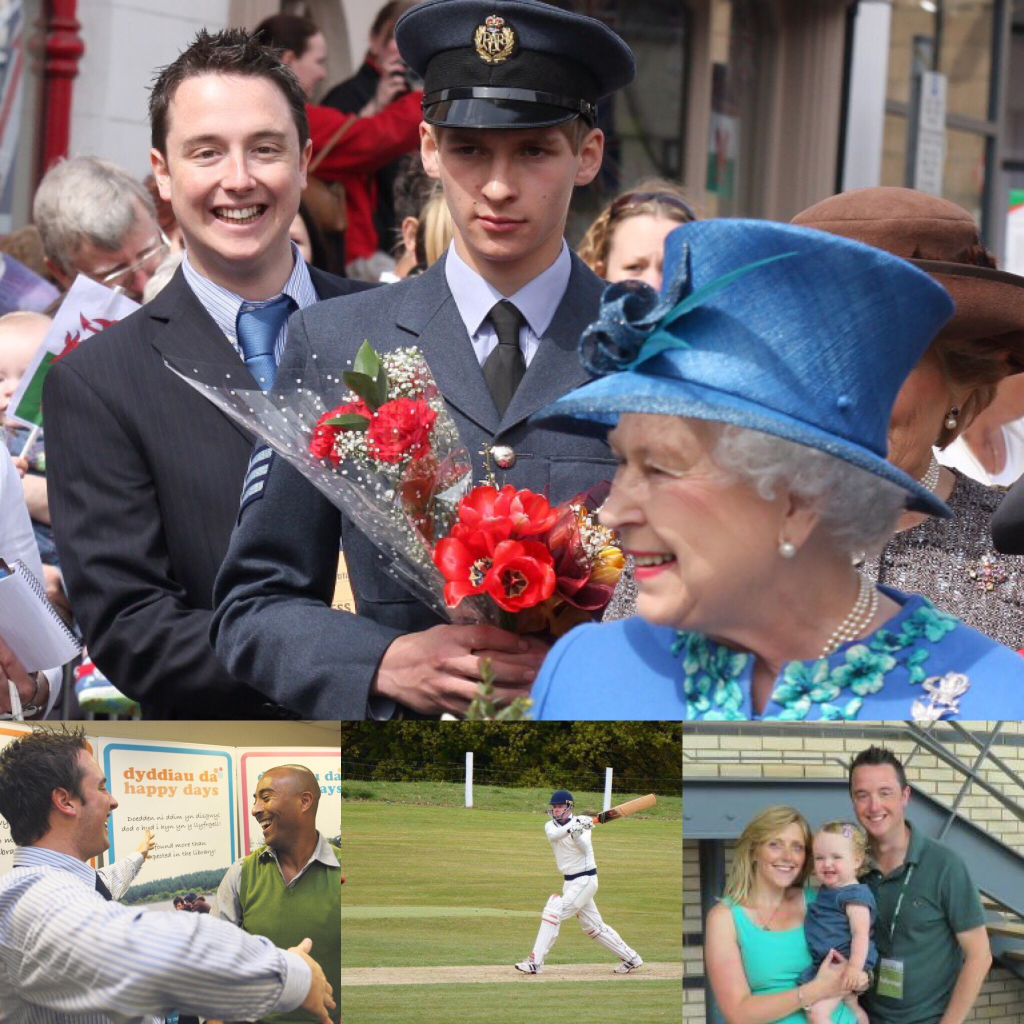 He has danced with Strictly Come Dancing finalist Colin Jackson, driven some of the finest cars on the planet and even photo-bombed the Queen, but for the past three years Richard Jones has played a key part in SaTH's Communications Team, where he says the best part of his job is "telling the amazing stories that those involved in consider to be nothing more than just part of their normal working day".
So what's this about photo-bombing the Queen? Richard explains: "I was a reporter for a newspaper in Wales when she visited Welshpool, and I was lucky enough to be given a rota pass which meant I could follow her movements for the day. I spent most of the time bumbling around and getting under the feet of Prince Philip, but when I spotted a photographer taking pictures I just took my chance, rose above security and gave a big fat cheesy grin down the barrel of the camera lens."
He continues: "Being a journalist was an amazing job and it led to so many wonderful, often wacky, experiences. I was at the Royal Welsh Show a few years ago when I challenged Geraint Thomas, winner of the 2018 Tour de France, to a race on a simulator, while other crazy things that spring to mind include: dancing with Colin Jackson in a library as part of World Book Day, singing a duet with one half of the Cheeky Girls, rocking up at a Premier League footballer's house and having breakfast with his wife while the unnamed striker popped down to the bookies, and walking 200-odd miles to Cardiff over the course of four days as part of a long-standing newspaper campaign.
"Of course it wasn't all fun and games. The majority of what I did was very serious, sometimes scandalous and often heart-breaking, but I met some wonderful people along the way and have made some great friends."
Outside of work Richard is a keen cricketer for Montgomery and ranks his half century for the second team last season amongst his finest life achievements. He also this year started playing golf (badly) while in a past life he raced in a coxed four as part of Staffordshire University's rowing club.
In his spare time he also writes about cars and is a member of the Welsh Motoring Writers. His monthly column 'Clocking up the Smiles' is a fresh take on the traditional motoring scribe. It features his daughter, Isabelle, and himself having 'daddy-daughter days' together in a different car each month. The idea, he says, is the column attracts a different audience than the usual car reviews, while still putting some of the finest motors through their paces to produce appealing and informative copy.
Describing fatherhood as "magical" and "the best thing ever", Richard enjoys nothing more than family days out with his wife Elinor – who also works at SaTH as a Senior Health and Safety Adviser – and Belle, who will turn 18-months-old this month. But when it comes to anything domesticated Richard admits to being pretty hopeless. If it wasn't for Elinor he would live on sandwiches and sausage rolls, while the likelihood of him ever getting from A to B without forgetting or losing something would be extremely minimal.
Finally, Richard says his motto is to 'like your job but love your life', and with Elinor and Isabelle by his side, plus the enjoyment he gets from hitting balls with a stick, combined with his job at SaTH, he feels the balance is pretty perfect. He would say he loves his job, but to love your job as much as you love life would be, in his opinion, wrong, even if his boss might read this!