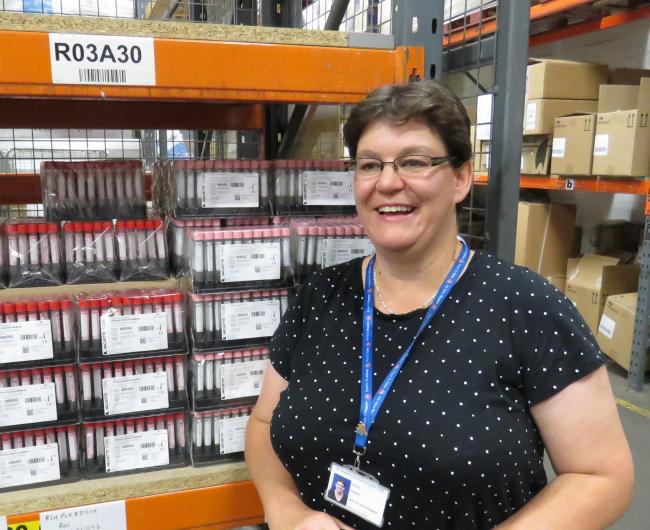 Around this time every year a team of people within our Trust focus on gathering responses and produce reports for the NHS Staff Survey. This Survey helps each member of staff put forward their views on how they're feeling at work – meaning we can look at how to make future improvements where it's needed. With this in mind, over the next few weeks our "Faces of SaTH" will be people that have been involved in this process; particularly those who have helped us implement changes as a result of staff feedback.
This week's Face of SaTH is Paula Davies, Head of Procurement. We sat down with her for a quick Q&A about her role in the survey…
How long worked at the Trust? I've worked at SaTH for 10 years, but I've worked in the NHS for 30 years – hosted by either SaTH, RJAH (Robert Jones and Agnes Hunt) and SCT.
What improvements have you made as a result of last year's NHS Staff Survey? We spoke to all staff about the survey results and requested more feedback. We now have a lot more regular contact with some departments than we have previously had.
What other improvements have you made as a result of staff feedback? There has definitely been improved communication in teams and weekly huddles have been implemented.
Why is it important to you that your team fills out the NHS Staff Survey? It's important so that they are able to express their opinions and hopefully feel part of an improving organisation.
Why is it important to you that you listen to your team and support them to make changes to improve your services? We want to make staff as happy as possible in the workplace. The improvements go hand in hand with the continuous improvement work that we undertake with the Trust TCPS (Transforming Care Partnership). Changes aren't always easy but if staff feel they have a say and that we are supporting them through change they will feel more engaged – we will have better outcomes and staff will want to stay working with us.
What's one thing your team doesn't know about you? We are quite a talkative team and having worked with most of them for over 10 years they know most things! I have twins boys (which they know) - there was over 3 hours between the first and second being born.
The NHS Staff Survey runs from 24th September To 1st November If you're a member of staff at the Trust you will be contacted about how you complete the survey. You can find out more by visiting the Staff Survey intranet page or emailing stafffeedback@nhs.net.