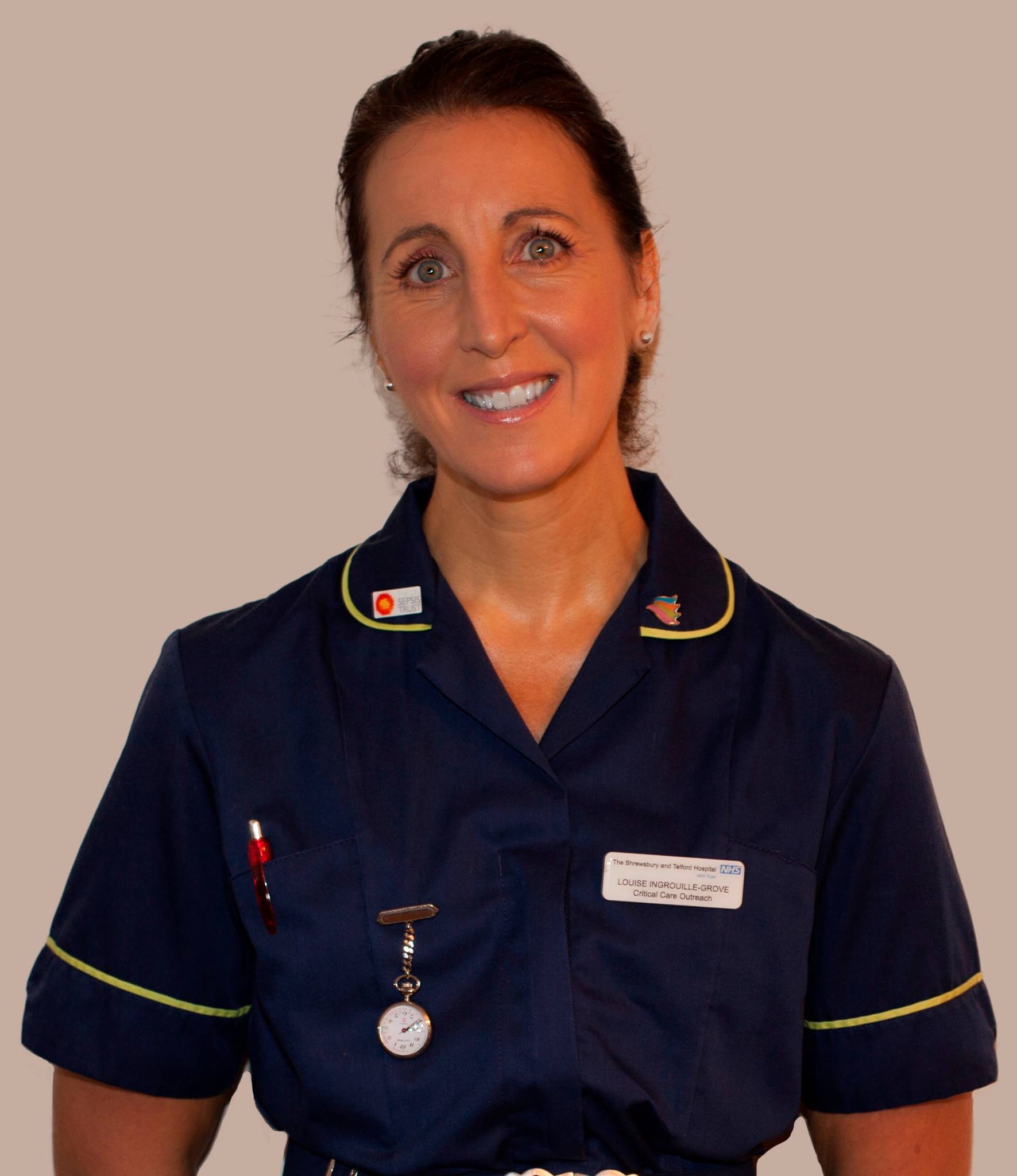 With World Sepsis day approaching on the 13 September, this week's Face of SaTH is Louise Ingrouille-Grove. We sat down with her for a quick Q&A about her role...

What's your role within the Trust?
I'm a Sister within the Critical Care Outreach Team based at the Royal Shrewsbury Hospital. Our current educational projects are sepsis and central venous access devices.

How long have you worked here?
I have worked in the Trust for about 22 years

How did you develop into your role?
I fell in love with critical care nursing during my nurse training, and decided during that time that Critical Care was the area I wanted to specialise in post qualifying.

Once qualified I was successful in gaining a permanent job within this speciality. During this time I returned to university to undertake the BSc Clinical Practice - Critical Care pathway, this enabled me to become a Sister in Critical Care, I later returned to University to complete the pathway, this then allowed me to apply for a role in the Critical Care Outreach Team.

What does a typical day for you involve?
My day starts with a hand over from the Hospital at Night and the medical team. The day is then dictated by a pre-set workload generated from patients from previous days, high early warning scores (of Sepsis), discharged patients or deteriorating patients. This requires us to work closely with all members of the multi-disciplinary team within the ward environments. We also carry the resus bleep and will attend cardiac arrest call anywhere in the hospital.

When we are not seeing patients, we set time aside to undertake ward based training and education. To maintain our critical care skills we continue to undertake clinical shifts within the critical care unit.

What's the best part of your job?
That is a difficult one to answer, as they are so many 'best parts', here are a few….
I love the variety of the job, as no two days are the same, and even when you think the day is planned out, it can change on the call from the bleep.
Working with a huge variety of staff is a really special aspect of my role, and one I never take for granted.
Meeting the patients and their families makes this role very special, having the time to talk with them and make a difference is a constant reminder of why any of us do the job we do.
I also thoroughly enjoy the teaching aspect of my job, especially when this is done on a one to one basis in the clinical environment. It helps to build relationships with the ward staff and gives us the chance to talk through any issues they have.

Why is World Sepsis Day important?
World Sepsis Day is held on September 13th every year and is an opportunity for people worldwide to unite in the fight against sepsis, as well as showing support for the millions of people who lost their loved ones, or, as sepsis survivors, suffer from long-term consequences of sepsis. Sepsis accounts for at least 8 million deaths worldwide annually. Yet, depending on country and education, sepsis is known only to 7 – 50 % of the people. We know that early recognition and treatment reduces sepsis mortality by 50 %.

World Sepsis Day on September 13th gives us an opportunity to revisit what we are all doing to improve the outcomes for patients presenting with sepsis. This year we have found innovative ways to raise awareness of sepsis for staff and visitors. These include a 'bake-off' competition, available for anyone and everyone to enter. The theme of the cakes is 'Sepsis' and the cakes will be judged at both PRH and RSH by the corporate and exec team. We are actively encouraging staff to think outside of the box and produce some whacky and wonderful cakes.

On the day we will also have pop up information kiosks to help raise awareness of the signs and symptoms of sepsis and the treatment. We are happy to chat with staff and visitors alike about what the Trust is doing to ensure early recognition and timely treatment.

And finally, how do you fill your time out of work?
When not in work I like to hike in the mountains and take long walks in the countryside. I enjoy the simple things in life, family, gardening and friends. I have a great love for travelling and regularly visit Europe and the Sahara Desert.

If you would like to know more about Nurse Job Vacancies within the Trust click here.