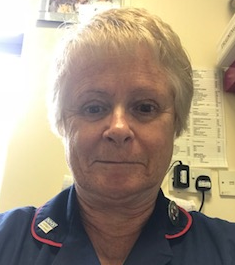 This week's Face of SaTH is Kim Bromley, who is Ward Manager on the Acute Stroke Ward at our Princess Royal Hospital, Telford.
"I started my nurse training the week Elvis Presley died so have been in nursing a very long time. I have seen a lot of changes during this time. I have been in my current post for over 10 years and the role is always changing. I think all nurses have to keep up to date with the changes and develop as they go along.
"There is no typical day on the Acute Stroke ward. We take admissions 24/7 so one never knows who is going to come through the door and need our services. Some days we can have 10 plus admissions and could have the same number of discharges or more. As Ward Manger I am also responsible for the day to day running of the ward. I do however enjoy my clinical shifts."
When asked what her favourite part of her role is, Kim answered "Seeing a stroke patient discharged who the whole team has helped to archive their optimum level of independence to enable them to go back home." Kim added that her biggest achievement has been being involved with setting up the Stroke Services department at the Princess Royal hospital and developing the team since.
Out of work, Kim keeps busy through staying active - "I like walking – hubby brought me a fitbit so there is now an incentive to get up and out. Plus we have 2 dogs that need walking! I like to make patchwork quilts for friends and family celebrating a special occasion or birthday. I also like travelling. I have a daughter who lives in New Zealand, so as I am retiring at the end of the year I am looking forward to spending more time with her in NZ."
Wonderful work, Kim! Do you know someone who works with us that would make a great Face of SaTH? Send us a message so we can get in touch with them!