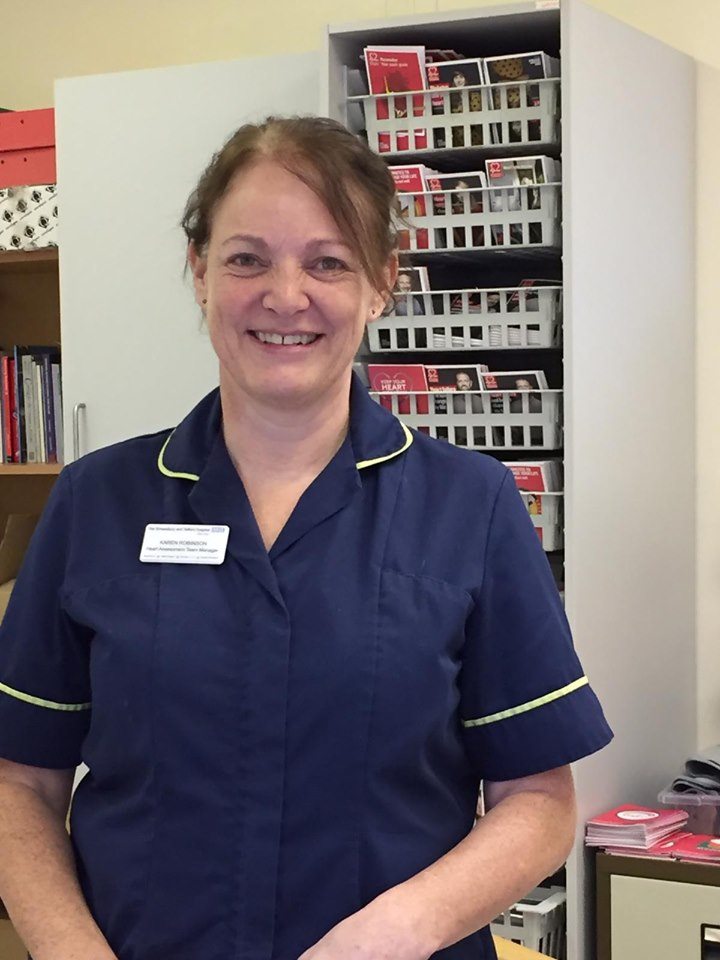 This week's face of SaTH is Karen Robinson, who is our Heart Assessment Team Manager, covering heart failure and cardiac rehabilitation service across both hospitals.

"I returned to Shropshire from York in 2002 to set up the new role of Heart Failure Nurse Specialist at Royal Shrewsbury Hospital (RSH). Initially I worked alone in this role but over the following 3 years following my appointment, the role expanded and there was a need to develop the Service further and we appointed a further two heart failure nurses and a team administrator.

"The next major step was combining heart failure services across PRH (our Princess Royal Hospital, Telford) and RSH. What we then found was that there was a duplication in roles between the cardiac rehabilitation nurses and the heart failure nurses so a decision was made to combine these services. This led to a more efficient use of nursing time and a more streamline journey for the cardiac patient.

"The team became known as the Heart Assessment Team and as a team we have continued to develop the service. The most current development being the introduction of the Ambulatory Heart Failure Unit at PRH which is aimed at reducing admission to hospital for heart failure patients, if they are admitted providing a safe early discharge and thus reducing their length of stay in hospital. We are now focusing on developing an IV Diuretic Service for our Heart Failure patients.

"My day is generally very varied. I usually start the day with a couple of hours of management duties where I would review staffing information such as training needs, appraisals, supporting NMC revalidation, sorting out duty rosters or dealing with any staff queries. Other management duties I would be involved in could include audits/report writing with particular focus on the National Heart Failure or Cardiac Rehabilitation Audits, attending and presenting at a variety of meetings.

"I am then often in clinic for part of the day reviewing patients with regards to their heart symptoms and optimising their medication and dealing with any urgent patient reviews. I am also involved in dealing with urgent telephone enquiries. The main part of my role on a daily basis is supporting my team members and other colleagues within their daily workload and being available for any questions or queries that they may have.

"Due to my role being so varied in a day there is not one aspect that I enjoy more than another. I feel fortunate that even though I am the Manager of the Department I am still able to utilize my clinical skills and have interaction with the cardiac patients. I enjoy having the opportunity to attend courses which focus on improving my leadership skills such as the Leadership Course on Coaching and Mentoring and currently the Lean for Leaders course.

"I feel that throughout my career I have had a number of achievements that I am particularly proud of. Setting up the Nurse Led Heart Failure Service at RSH back in 2002 and seeing the Service grow to what it is today has been a major achievement. Recently being nominated and then winning the SaTH Improvement of the Year award was also rewarding. This however was not something that I achieved alone, without the dedication and motivation of the Team I am part of this would not have been possible.

"I am a person who likes to be active and my main focus outside work is my horse who certainly keeps me busy. I also enjoy going to the cinema and going out for meals."

Nice work, Karen! ????????