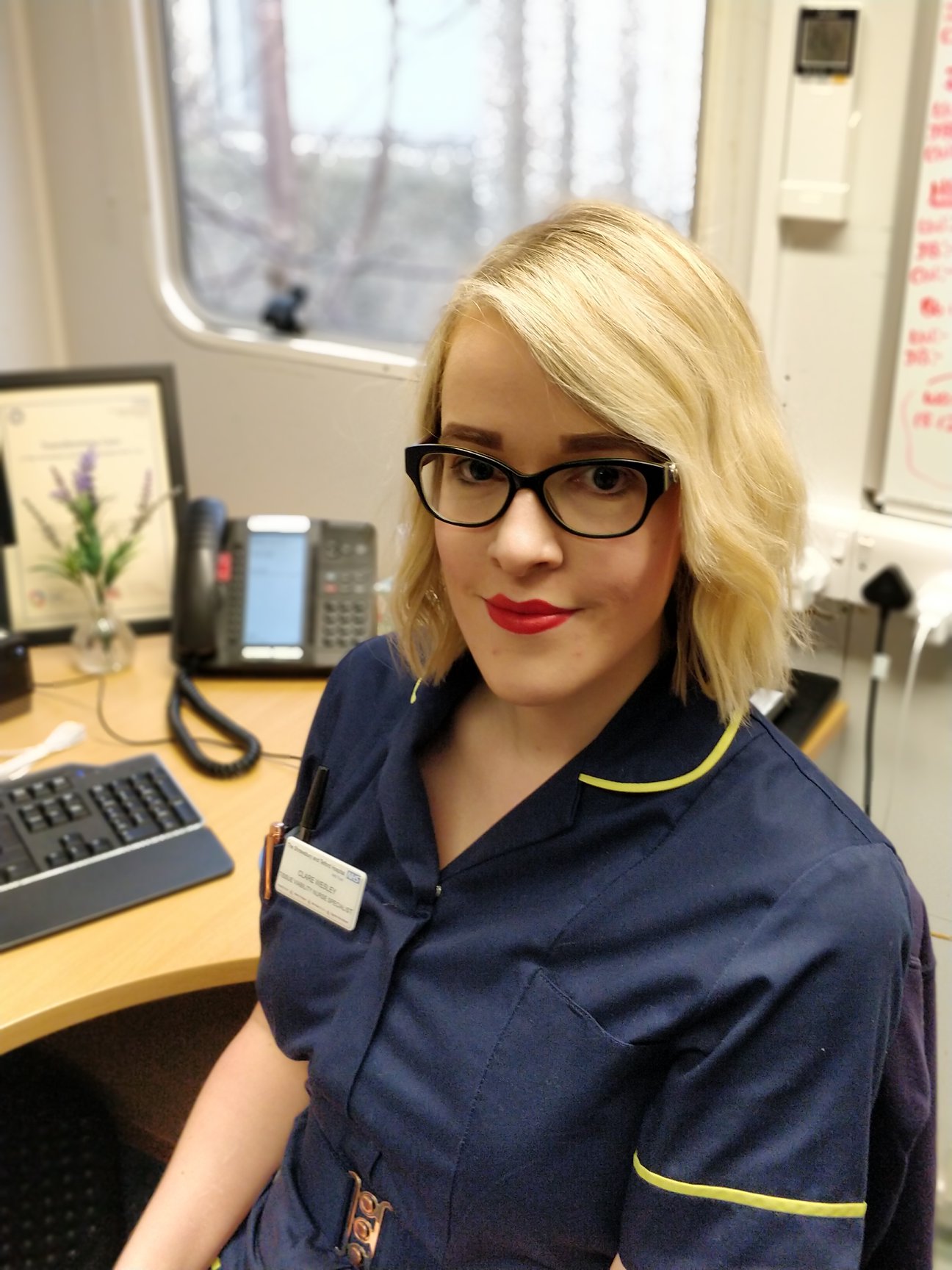 This week's Face of SaTH is Lead Tissue Viability Nurse Clare Wesley, who has worked with us for 10 years. She tells us a little bit more about her role..

"I have always had a clinical interest in Tissue Viability before I even started my nurse training. My background is acute medicine and respiratory, with my most recent role being the ward manager of 22 (the Respiratory ward at our Royal Shrewsbury Hospital). The opportunity came at the right time for me in my career and I was lucky to get appointed into this role. I start my MsC next month in professional practice and have undertaken various levels of training since being in post in order to develop my skills and knowledge.

"Each day is varied. Generally, we tend to go through every new report relating to any form of wound and pressure ulcers and triage each one. We then prioritise depending on clinical urgency and go see patients. A full patient assessment of a wound usually takes around 30-40 minutes. Sometimes this can take much longer dependent on clinical need and any investigative work. Typically we tend to see 7-15 patients per day across both sites.

"My own duties involve complete overview of the service, collating monthly reports and data of patients we've seen. Liaising with other teams such as safeguarding and our community colleagues. I report to the relevant third parties, conduct investigative work and arrange essential education for staff - amongst many other things!

"I love the balance between being patient facing and developing a service. We have a very strong vision albeit a small team of 2 including myself but I genuinely love my job and the fact that we are well received when we go onto ward areas. Seeing wounds heal is probably the most rewarding thing. We have had patients that faced amputation yet we have been able to save the limb and heal the wound. Seeing how that changes somebodies life and lifts them from misery to happiness is priceless and you really feel that you are helping somebody

"My biggest achievement is probably the credibility I feel the service now has. We have worked really hard over the last few months to enhance our visibility and make things as easy for staff as we can. It is really important to me that staff and patients have faith and confidence in what we are doing and know we are here to support them. There is still so much work to do but we are a very small but committed team with a lot of drive and determination. Our response times have improved significantly and it's been commented how quick we are at seeing patients, we want to be a reliable approachable service and I'm very proud of what we have achieved so far.

"Outside of work, I really like the simple things like going out for dinner, coffee etc. I enjoy cooking and I'm obsessed with cleaning- the "hinchers" out there will know what I mean! I don't currently have time for hobbies as I'm saving for a wedding next march so I can't afford to have fun!! I tend to be a bit of a workaholic so I'm always reading or researching something about my speciality. After the wedding I'd love to do some more travelling and see the world a bit more. My partner wants us to sail away on a catamaran so more holidays are my compromise!"

Wonderful work, Clare!! ??????
View our Nursing Vacancies Here. #NHSJobs