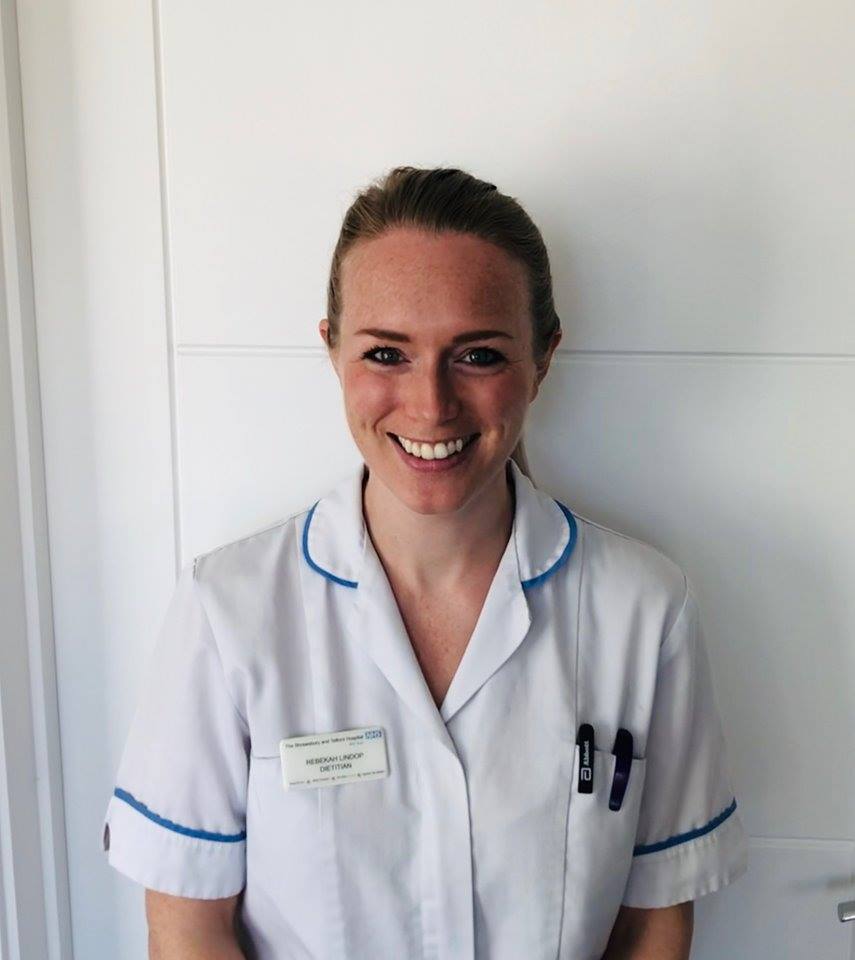 This week is Dietitians Week across the UK, so we thought it would be fitting to have one of our Dietitians, Becky Lindop, as our Face of SaTH! We asked her more about her role…

"I am one of the Community dietitians. I currently work between RSH (Royal Shrewsbury Hospital) and PRH (Princess Royal Hospital, Telford) and support the nutrition of patients in their own homes and care homes across Shropshire.

"After graduating I started working as a band 5 Dietitian on the wards at RSH before taking the opportunity to move into the community around 2 and a half years ago.

"There are lots of different aspects to the role so there's no such thing as a typical day! A lot of our time can be spent looking after people who have feeding tubes in place to help with their nutritional intake. There are many reasons a person might need a feeding tube, often it is because their swallow is affected by conditions such as stroke, neurological conditions, cancer, learning disabilities and many others. This can put these people at a very high risk of malnutrition. For some people, a feeding tube is the best way to help keep them well nourished. I work with individuals and carers to develop the best tube-feeding plan for each patient to safely meet their nutritional requirements and best fit into their daily life.

"I also carry out home visits for those people unable to leave their homes for an out-patient appointment. Our team also cover the wards at the Community Hospitals in Shropshire and see any patients who need dietetic input, often for malnutrition. The role involves lots of working with care homes, GPs, Speech and Language Therapists, Endoscopy Nurses, Abbott Nurses, Diabetes Nurse Specialists and many others.

"I love the continuity of patient care that this role allows. Many of my patients, who need tube-feeding long-term, have been on my caseload since I have been in the role which allows for long-term relationships with both patients and their carers. I enjoy being there for patients throughout their tube-feeding journey and being able to provide support and ease for anxious patients. It's also wonderful to see people improve in their nutritional status as a result of the dietetic input and, depending on their diagnosis, some people will improve in their ability to eat and drink and be able to have the tube removed.

"In work, I've loved working with my fab team to keep fully up to date with our patient referrals and reviews and provide a quality service. Outside of work I love the outdoors particularly snowboarding, surfing, camping, and hiking"

Wonderful work Becky! ?