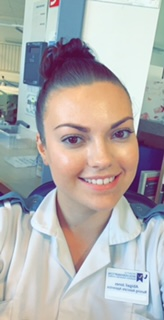 This week our Face of SaTH is Abi Jones, who tells us a little more about herself and her role...

"I am a Trainee Nursing Associate (TNA), part of the second cohort within the Trust. I go to Wolverhampton University one day a week and experience a range of different areas within the hospital and care environment. I work alongside the registered Nurses and Healthcare Assistants providing person-centred care, all whilst learning from the multidisciplinary team to increase my knowledge and clinical skills to enhance the care I provide.

"I worked on SAU (the Surgical Assessment Unit) as a Healthcare Assistant for just under 4 years and decided to progress further so applied to become a TNA. Being a Healthcare Assistant on SAU really helped build my confidence and knowledge to make my transition into the new TNA role easier.

"I am based on Ward 25, which is a Colorectal ward at the Royal Shrewsbury Hospital. My typical day on 25 involves taking handover from the previous shift staff, assisting with any personal care for the patients, helping to implement the care plans in place for each individual, working with the Nurses to safely discharge patients and ensure the best possible experience for the patients in our care. I am put in charge of a bay of patients whilst being overseen by a Registered General Nurse to enable me to learn how to organise and provide the care effectively and efficiently.

"My favourite part of the job is the patient contact. I love meeting new people and being able to support people through their journey whilst in hospital. I also really enjoy being in a position to learn new clinical skills and increase my knowledge to better myself and better the care I provide for my patients. My biggest achievement is being able to go to university and study as a TNA.

"On my days off I enjoy spending time with my friends, going out and socialising and spending time with my family. I also have lots of uni work I have to do!"

Wonderful work Abi! ??????