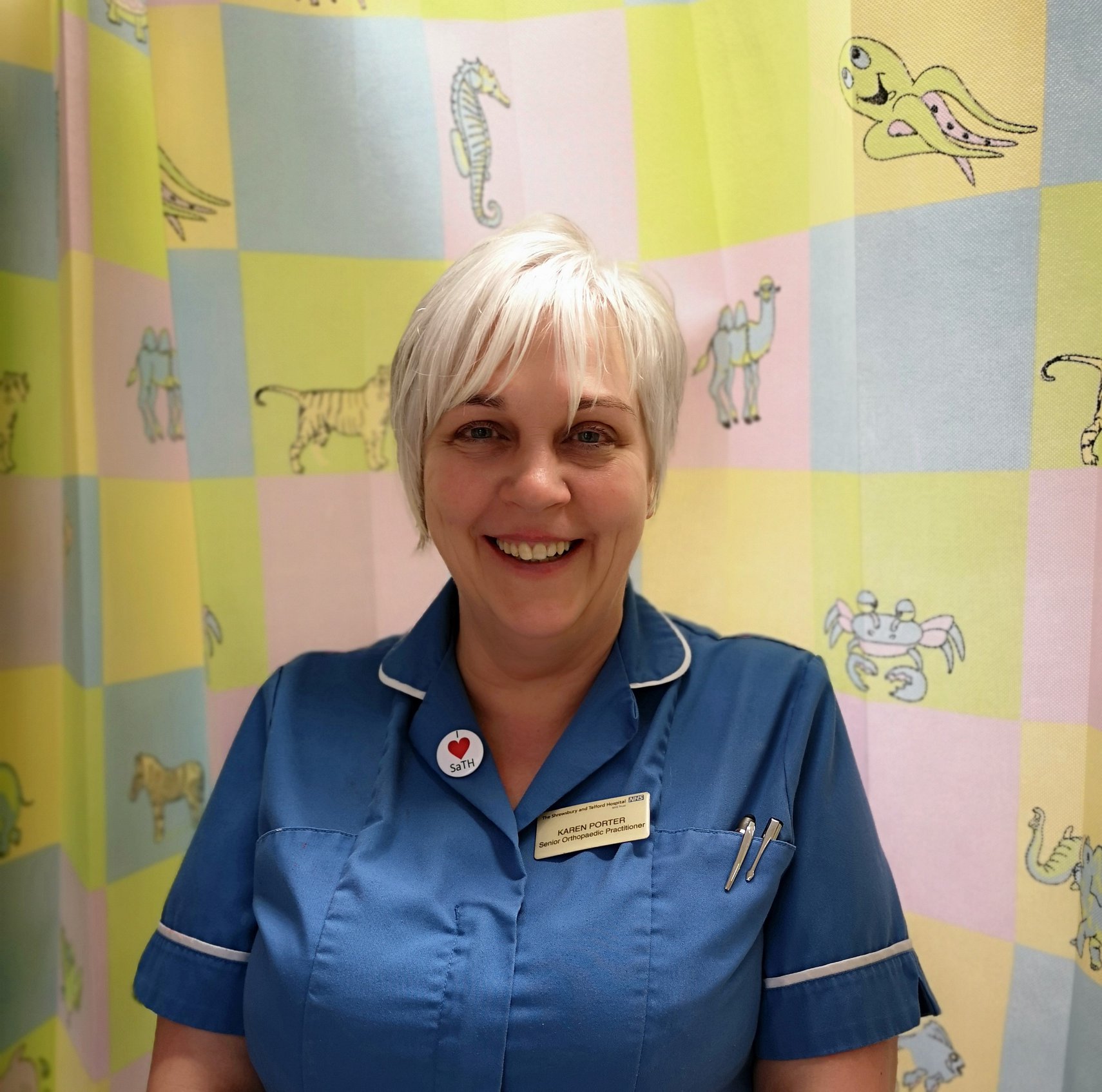 This week's face of SaTH is Karen Porter, who is a Senior Orthopaedic Practitioner at our Princess Royal Hospital (PRH).

"I started at PRH in July 1993 and have been working there for 25 years. At first, I worked part time in the Catering Department doing the 5pm-9pm shift. After one year I moved onto Ward 8-9 as a Ward House Keeper - this was a new role that I was able to make my own and I enjoyed this role, however after 5 years I felt I wanted a career. I started work in the Plaster Room on January 9th 2000. I studied long and hard to gain my qualifications, I didn't find it easy at all. I have been here 18 years and every day is a school day always learning something new.

"We are a busy department! When I started in this role alongside my colleague Colin we saw 6,000 patients per year - we now see 12,000 to 13,000 per year! We have developed our job using new products and techniques, mixing new ideas alongside old (tried and tested) methods to suit individual patients.

"On an average day we treat 40-60 patients, depending on the type of weather we are experiencing. We treat a whole age range of people, from 100+ down to babies that are a few days old! Most of our work comes from the Fracture Clinics but we also treat patients from the Emergency Department, Wards, Theatre, Stroke, and patients suffering neurological problems. I say we are not life savers but we are limb savers!

"I have a teaching qualification, so along with my colleagues we teach other staff members safe applications of plaster casts, as well as taking on work experience students from local schools and colleges and young volunteers. I also take part in helping to deliver the yearly West Midlands Surgical and Orthopaedic skills course along with other colleagues.

"I do love my role and coming to work is never a chore and I work within a great team!

"Outside work, I have been married to Eddie for 36 years. We have 3 grown up boys and 6 grandchildren - they keep us busy and we very proud of all of them. My passion since a very young age our horses. I ride and now have a young gypsy cob that I hope to take to hand-shows to compete in. I have also joined a tap dance class with my two left feet!"

Lovely work Karen! ????
Interested in working as an Allied Health Professional at our Trust? View our job vacancies here. #NHSJobs