#belongtosomething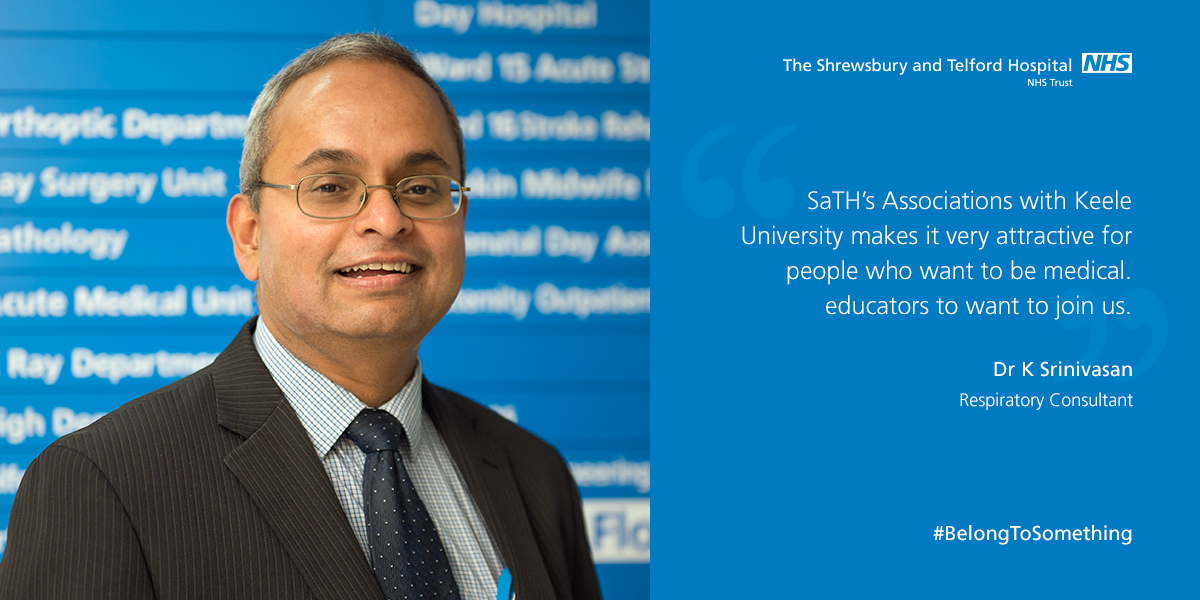 Dr. K Srinivasan is a Respiratory Consultant working at the Princess Royal Hospital in Telford and he stated "Shropshire is a great place to live and you're never too far away from the city. The associations with Keele University makes it very attractive for people who want to be medical educators to want to join us."
If you are 4th or 5th year medical student, or you plan to become a medical educator, The Shrewsbury and Telford Hospital NHS Trust (SaTH) should be on your list of places you want to work.
The Shrewsbury and Telford Hospital NHS Trust (SaTH) are recognised as having "teaching hospital status" which means our hospitals provide vital training to future and current health professionals. We have been partnered with Keele University School of Medicine since 2003 and Keele is recognised as one of the top universities in the UK. We also have associations with medical schools in Manchester and Birmingham.
We can offer a range District General Hospital placements to Year 4 and 5 year medical students and many year of our 4th year students choose SaTH as their first choice hospital for the Foundation Year 1.
Alternatively if you are looking at a career as a medical educator then we would be an ideal choice for you. As a smaller trust there is a lot of scope for recognition and progression within our hospitals.
If you have any questions or would like to know more about the medical roles available at SaTH please look at our doctor recruitment page here.