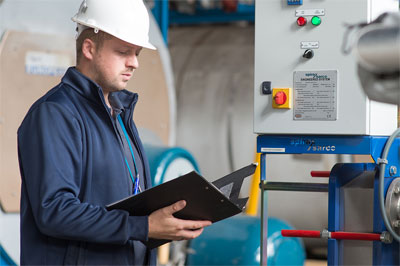 David Lewis is a Multi-Skilled Technician, he also provides specialist disciplines to the Trust such as Decontamination Competent Person Skills & Medical Gas Competent Person skills including Maintenance, Servicing and Repairs.
David started at the Trust with very basic Engineering Qualifications; City & Guilds 20-10 and Performing Basic Engineering Operations Level 2 after he left school.
David joined the Shrewsbury and Telford Hospital Trust Estates Teams as a Mechanical Maintenance Assistant at Band 2. Soon after his appointment to the Trust his Career path started.
"I was offered an opportunity by my Manager to go through an apprenticeship, the Trust were willing to develop my skills and pay for me to go to college so I could eventually become a Mechanical Tradesman. I gratefully took the opportunity and committed myself fully to the Advanced Apprenticeship course which took three years to complete, picking up student of the year and gaining distinctions along the way. My Managers supported me through college as well as the senior craftsperson's I worked alongside. I did find returning to the class room difficult at first, it had been quite a while since I was involved in education. I also earned less money than my colleagues whilst studying at college, due to my status as an Apprentice but I knew if I applied myself and achieved the qualifications I would eventually reap the rewards in the future".
"After successful completion of my apprenticeship I then went on to complete Higher Education which was a HNC/HND in Electrical Mechanical Engineering. Because of the Trusts support, I can have a greater choice in my career path and hopefully continue to progress with the Trust".
"I am now a Band 5 Technician based in The Endoscopy Department at The Princess Royal Hospital as part of the Decontamination Team, I also cover the Royal Shrewsbury Hospital and an off-site building dedicated to sterile services called Queensway. I have to ensure that the Automatic Endoscope Re-processor Machines are functioning correctly, this includes taking water samples for microbiological tests, checking for bacteria levels, proteins, incoming water quality and organic carbon. I service the machines fully every three months, signing them off as fit for purpose or repairing/replacing pumps and other components that are not fit for purpose. The sophisticated machines I now work with are a different challenge to those I have worked with in my previous role in the Trust. My job also includes maintaining the Plant machinery that distributes gasses such as Oxygen, Entonox, Nitrous Oxide, Medical Air, Surgical Air and vacuum around the hospital site. This may require me to either repair or replace Medical Gas System components like Terminal Units".
"I find it very rewarding working at the Hospital"